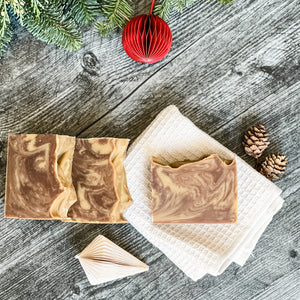 Chocolate Orange Dream Soap
Regular price
$8.50
$0.00
Unit price
per
DESCRIPTION
The nostalgia of a chocolate orange in our stockings inspired this decadent soap. Rich and nourishing cocoa butter is blended with conditioning oils to create a dreamy smelling lather that will cleanse with the indulgent scents of chocolate and orange. Imagine this grown-up, calorie-free version of a chocolate orange in your loved one's stocking!
INGREDIENTS (in order of weight)
Olive Oil, Coconut Oil, Distilled Water, Cocoa Butter, Sodium Hydroxide, Avocado Oil, Castor Oil, Essential Oil Blend (Orange, Benzoin, Balsam, Amyris, Vanilla Oleoresin, Cocoa Absolute), Annatto Seed Powder, Cocoa Powder, Moroccan Red Clay 
ADDITIONAL DETAILS
To extend the life of your soap, place it in a dish or on a mat that drains to allow it to dry between uses. Laying it flat or in a non-draining dish keeps keep it wet, which shortens the life of your soap bar.
Soap designs are unpredictable and sometimes change. Your soap may not look exactly like the one pictured, but the label and ingredients will all be the same as pictured and described.
For External Use Only
SIZE
These bars weigh at least 4.5 oz each with dimensions of dimensions 3.5" w x 2.5" h x 1" d
---